31st January. AFC Dunstable 5 Stotfold 0
With league leaders Kings Langley game succumbing to the wet weather, AFC Dunstable had the chance to join them on 56 points with a win over Stotfold. They took full advantage with a resounding 5-0 win, which also saw Jermaine Hall help himself to 4 goals.
With skipper Moses Olaleye starting his 4 match ban, AFC boss Steve Heath welcomed back centre back duo Leon Cashman and Grant Fryer both missing from the Barton game. Upfront Chris Francis resumed his partnership with Hall and Jonathan Cooper also got a start.
Stotfold came to Creasey Park on the back of a midweek defeat to Luton Town in the Bedfordshire Senior Cup. Reports were they gave a good account of themselves, even though the Hatters put 5 past them as well. 
AFC were straight on the front foot, as they pushed Stotfold back and started to dominate possession. It took 22 minutes to finally break them down when Hall latched onto a loose ball and finished with aplomb. It was soon 2-0 when Taishan Griffith, who was dangerous all afternoon, drew a foul from Stotfold's left back who tripped him in the box. Up stepped Newman Carney to smash home the penalty. The home team continued to press for the rest of the half but could not extend their lead.
Half time: AFC Dunstable 2 Stotfold 0
With Kings Langley having a much better goal difference than AFC, now was the chance to close the gap. It only took 6 minutes for Hall to get his 2nd and make it 3-0. It was now all AFC as they went in search of more goals. Hall completed his hat trick on 72 minutes, when he took advantage of a defensive mix up to slot home from 15 yards. To make matters worse for Stotfold trying to cope with Griffith, Heath introduced Jimmy Hartley and his trickery was soon causing them problems.
A trade mark run for him down the line, he was felled and another penalty was awarded. With Carney now off the pitch, Hall took the chance and registered his 22nd goal of the season. With 15 minutes still left on the clock, AFC probably wasted the chance to score a few more but had to be happy with 5-0.
4 goal hero Jermaine Hall (below)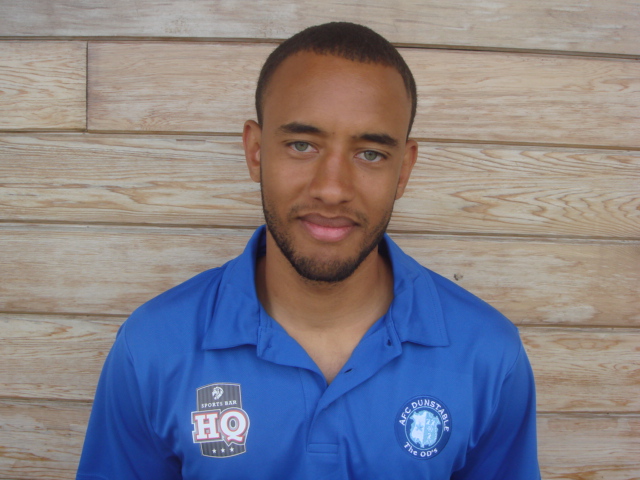 Heath reflected " we are now joint top which is so satisfying. We just have to keep going and hope Kings Langley start dropping points. We have 15 cup finals left in the league and as we are now out of all cups, we can put all our efforts into those games"
AFC Team: Porcelli. Mills. Carney (Warne 50). Fryer. Cashman. Griffith. Cooper. Bufano. Hall. Bishop. Francis (Hartley 68). Subs not used. Silvestri. Biggadike.
Goalscorers: Hall (22, 51, 72, 74 pen). Carney (34 pen) Attendance 44.