27th September. Kings Langley 0 AFC Dunstable 2
With results going their way, AFC moved up to 3rd in the league, with this well fought win against one of the many teams who could win the league this season. A double from 18 year old Jimmy Hartley made his tally to 4 goals in 3 games since signing from London Colney, as they kept up their impressive away record.
Manager Steve Heath brought back into the starting line up from Wednesday Fabio Bufano, Moses Olaleye and Jonathan Cooper. Playing against a team he managed just under 10 years ago, it was satisfying return for Heath to pick up all 3 points.
With hosts only suffering one league defeat so far, it was going to be a competitive affair and it was proved, as some tasty challenges went in on Olaleye and Cooper but the man in the middle decided not to brandish any cards. With AFC deciding to match the combative nature of Langley's opening exchanges, their first foul was rightly cautioned as Enzo Silvestri went in dangerously. Saying that though, at least 2 Langley players should have gone the same way before that.
With pace on both flanks with Hartley and Taishan Griffith, these caused problems for the back line of Langley. Their skipper Nick Jackson was having an influence on the midfield and when he set up Mitchell Weiss, Louis Porcelli again earn't his corn with a smart save. The game was a massive midfield battle as the hosts probably edged the half on chances created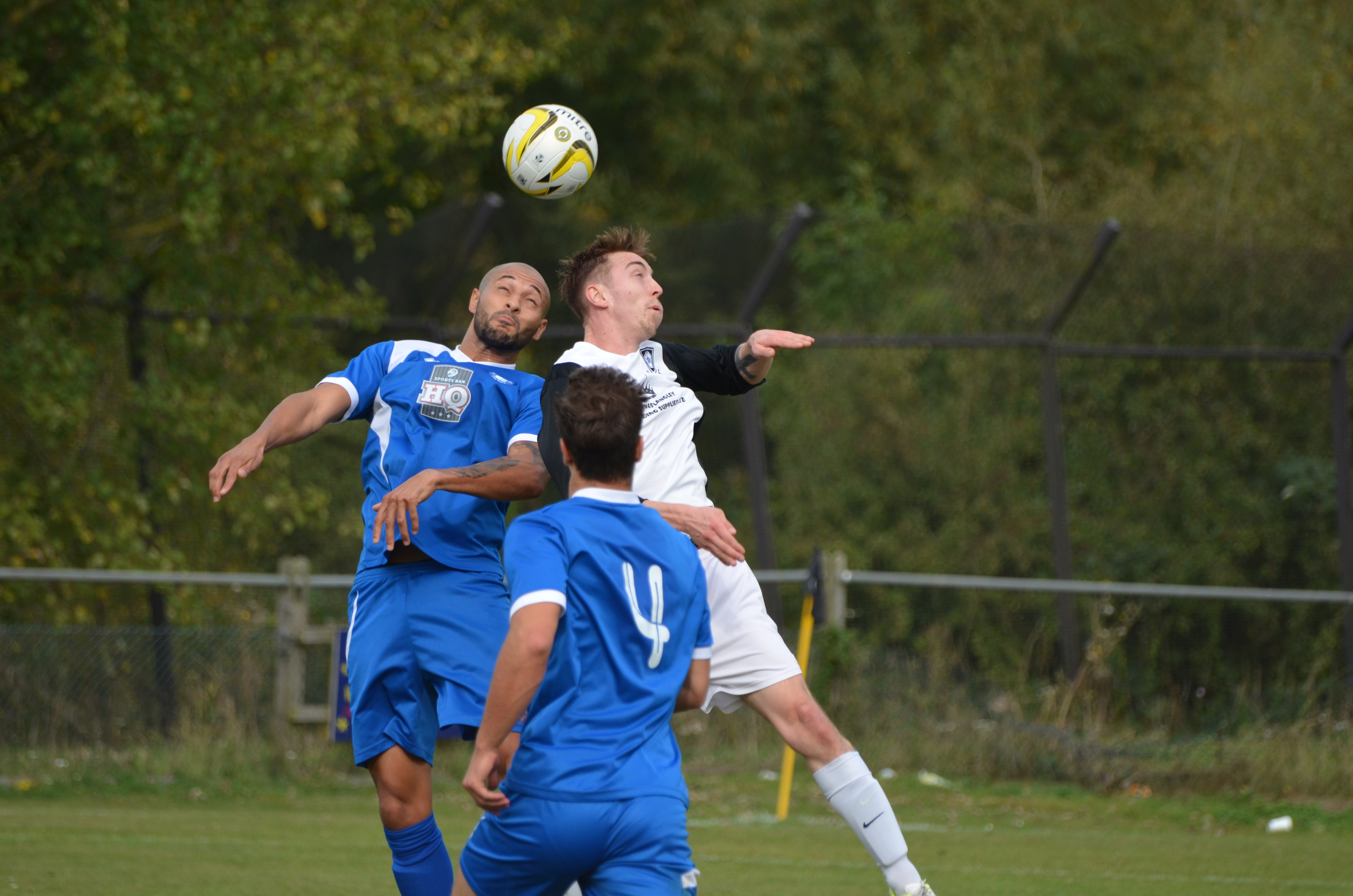 Half Time. Kings Langley 0 AFC Dunstable 0
AFC had the best start they could have dream't of, as good work by Griffith down the left crossed for Hartley to poke him the first goal of the game after 48 minutes. It should have been 2-0 not long after, as Jermaine Hall effort went just wide. Langley upped the pace but found Leon Cashman and Bufano at the centre of the defence inspired. When they did penetrate them, Porcelli was solid behind them.
The visitors now started to take control of the midfield and they were rewarded with 80 minutes on the clock, when Hartley finished with great accuracy to kill of their opponents. Langley did keep going and struck Porcelli's post late on, but the team finished strongly.
Heath reflected on his return to Kings Langley " it felt strange coming back here with another team. I knew today would be a massive challenge for us and I thought that was the best we have played so far this season. Being able to put out the same defence 2 league games on the trot was a great plus" he continued " I now have competition for places and many very good players are still not getting in the starting X1 and also have players coming back from injury"
Kings Langley Team: Tewkesbury. Hutchins. Toomey. Joseph. Deaton. Adebiyi. Pattison. Hitchcock. Weiss. Jaskson. Atkins. Subs: Fiadzomor. Miller. Carter. Stevens.
Crime Count. Pattison (Yellow Card)
AFC Team: Porcelli. Pickering. Carney. Bufano. Cashman. Griffith. Hartley. Olaleye. Cooper (Warne). Silvestri (Bishop). Hall (Harvey). Subs not used: Langston. Biggadike.
Scorer: Hartley (48 & 80)
Crime Count: Silvestri (Yellow Card)
Referee: Mr Lunearella. Assistants: Mr McAree & Mr Melvin.